Win more with actionable, data-driven insights.
See what wins at every level of play--millions of players already have. Always up-to-date and backed by millions of matches, U.GG is simply the most accurate LoL stats service ever. Let us take care of everything so you can focus on winning.
Our Mission
In 2017, we saw what was out there in the League ecosystem and wanted to do better. We began with newer data and better analytics, and a focus on usability. Founded in Philadelphia and now Austin based, U.GG has grown from passion project to Sixers Innovation Lab partnership to helping millions of players every month: all in just three years. Now, we're one of the largest services in the ecosystem, and still growing monthly.
Our Team
Based in Austin, TX, our team of ten has backgrounds in finance, data science, visual design, engineering, and marketing.
Shinggo Lu
Co-Founder & CEO
Shinggo is a foodie and board game fanatic. Most mornings you can find him around Town Lake running off the previous night's dinner.
Alan Liang
Co-Founder & CTO
Alan loves to sing in the shower and is in the "pineapple is great on pizza" club. His favorite games (besides League) are Zelda OOT & BOTW. Alan's always down to Smash (Bros).
Greg Klein
Director of Engineering
Greg has been writing software for over 10 years. Outside of work, he enjoys spending time outdoors, going on hikes, and camping.
Eric Huang
Director of Marketing
Eric loves basketball, writing, and League. Most of these relationships are really more of a love-hate. Like AOC, he owes his workplace decorum to League.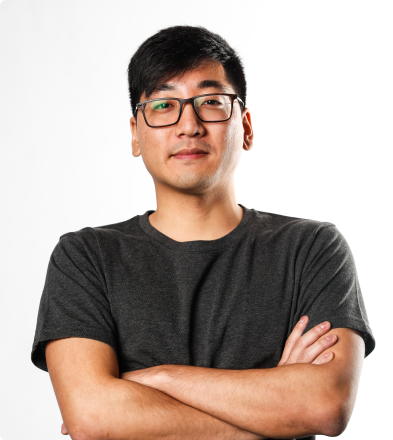 Yuuta Sumioka
Lead Front-End Engineer
Yuuta can take naps at any time of the day or night. Whenever he is not sleeping, he is always at the bowling alley or enjoying some nice whisky.
Marc Sofield
Lead Visual Designer
A New Jersey native, Marc spent his youth gaming and skateboarding. He hopes to spend his later years eating wagyu and drinking whisky by the beach.
Christopher Egan
Dev-Ops Engineer
Chris is a modern day Paladin, the staunch defender of U.GG's infrastructure. He's a former downhill longboarder, and passionate about esports, tech, and his cats.
Michael Smilie
Front-End Engineer
Smilie enjoys reminiscing about the one time he beat Yuuwie at bowling. Life has mostly been on a rapid downhill slope since then, so let's not talk about it.
Justin Ang
Full Stack Engineer
Justin can be found tinkering with tech, missing abilities and headshots, or tracking down that one book quote. He can't do mornings without caffeine (tea or coffee).
Jeremy Simms
Senior Software Engineer
Based in Boston, Jeremy has been making software for as long as he can remember. When he's not coding, he enjoys running and rock climbing in the balmy weather of sunny New England.
Connor Smith
Full Stack Engineer
When he's away from the computer Connor's probably either hard at work improving his cooking skills, or out looking for "inspiration" at local restaurants. He also enjoys attempting to train his dog, reading, and working off whatever food he just ate.
This Eric is an alcoholic, always trying to hang out and get friends drunk whenever he can. He was a former contest-winning guitarist but for unknown reasons became a software engineer.